Giant Pumps used in Natural Gas Exploration Project
Latest News | December 4, 2018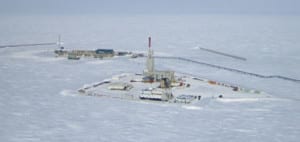 Giant Pumps used in Natural Gas Exploration Project
As the demand for natural gas continues to rise, companies are constantly trying to find ways to capture and utilize potential fossil fuel sources that exist but cannot be retrieved.
Methane hydrates potentially represent a huge new resource of the cleanest fossil fuels to date.  A recent Minerals Management Service study estimated that methane hydrate production could increase the current US natural gas reserves one hundred times.
A field trial was conducted by Conoco Phillips where a combination of carbon dioxide/nitrogen molecules are mixed with methane molecules directly in a natural gas well.  The mixing effect actually allows the carbon dioxide/nitrogen to exchange with the methane molecules releasing the methane for production.  The exploration site is called the Ignik Sikumi no. 1 well site on an ice pad in the Prudhoe Bay Operating Unit on the North Slope of Alaska.  The Giant pump skids were purchased to circulate warm water glycol into the annulus area between two drill pipes inserted into the well. The purpose is to keep the drilling mud and other fluids warm enough to flow properly but not allow any melting of the surrounding permafrost. Reliability of the pump skids was paramount. This was a 24/7 operation sometimes in temperatures of minus 40 degrees Fahrenheit.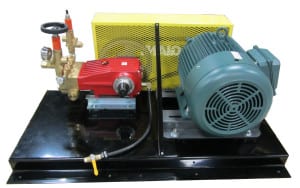 The equipment Giant provided was two identical skids each with an LP255 pump belt driven by a 40 hp electric motor with a flow of 25 gpm and 2200 psi.
The customer was elated with how reliable the pumps skid performed.
Warning
: Undefined variable $args in
/srv/users/serverpilot/apps/gia-kamat-dev/public/wp-content/themes/zombie/functions.php
on line
272
Our Company
For 50 years, Giant Pumps has offered the most dependable positive displacement high-pressure triplex pumps available. Designed and built to the highest quality standards, customers count on Giant Pumps products to keep their equipment running. Every design detail of Giant Pumps products is optimized for long-life and reliable performance, making Giant Pumps the most trusted name in high-pressure pumps and systems.