High Pressure Pumps for Casting Deburring
Latest News | October 27, 2020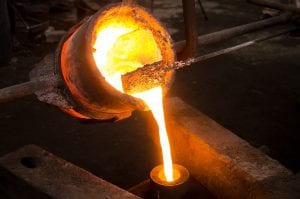 Deburring Castings with High Pressure Water
Application
Foundries and casting companies are a great example of an application for high pressure water.  These companies create castings by pouring liquid metal into a mold.  After the metal is cooled it is removed from the mold, inspected for quality, and examined for imperfections.  Often there will be burrs, or rough edges or ridges, remaining on the metal casting.  It is important to remove these burrs for a variety of reasons, including, less friction on items in contact with the metal, ease of adding finishing coatings and safety of handling the material.  It is important to note, casting deburring is a pivotal step for all casting companies and foundries.
There are a variety of ways in which operators choose to remove these burrs.  The oldest method is manual deburring with files and other grinding tools.  This is often not cost effective and very labor intensive.  This method of deburring is usually used by smaller foundries and casting companies that produce small quantities of items.  Another downside to this way of deburring is that it creates dust or minute metal shavings.
For larger companies or companies that produce large quantities, Giant pumps can increase efficiency and reduce labor costs by using high pressure water pumps to deburr the castings.  High pressure deburring is using a pump to create high pressure water to remove the burrs quickly and safely from metal castings.  Using high pressure water, no dust is created; the water and the particles go to a designated waste area.  The water is applied to the metal and accurately and cleanly removes the excess material.  While deburring applications usually run 10,000 PSI and lower; with pressures up to 50,000 PSI, Giant Industries can help you with any of your high pressure needs.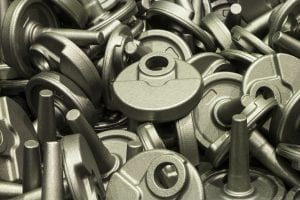 Case Study
Problem:
Recently Giant Industries had the privilege to work with a company that makes industrial gas turbine engine parts.  This company deburrs alloys and super alloys.  Previously they used a competitor's machine.  The deburring machine was operating at 5 GPM at 6000 PSI.  Operating at that flow and pressure the company was able to deburr one part every 12 minutes.  Giant was approached about increasing the productivity of their deburring process.
Solution:
As a family owned company, Giant can provide customized solutions for any issue.  Our engineering team recommended a GP5116 unit operating at 5 GPM and up to 10,000 PSI.  This unit helped the company go from one part every 12 minutes to one part every 5 minutes.  Their production ability was more than doubled.  In addition to the increase in productivity the customer noted that the surface of the casting was much better than with the previous unit.
To help ensure a smooth transition from the old machine to the new machine, we made sure our custom unit team was onsite.  After watching the process, the team noticed an aspect of the unit that if changed could further benefit the casting company.  Initially the unit was created with a pressure actuated unloader per their specifications.  After watching the test, our engineering team suggested replacing this with a flow actuated unloader.
A flow actuated unloader regulates the flow in the system and maintains system pressure via an adjustable handwheel that controls the amount of tension on a pressure spring.  When no flow is going out the outlet port, all flow is diverted to the bypass port at virtually no pressure.  The unloader does not "trap" pressure, so it eliminates the need for an easy start valve and almost completely eliminates the "kick-back" (that occur with pressure actuated type of unloaders) upon start up.  By providing onsite support the customer was able to get the perfect unit for their needs.
For more information on the custom unit we sent please visit the October product spotlight page here.
Warning
: Undefined variable $args in
/srv/users/serverpilot/apps/gia-kamat-dev/public/wp-content/themes/zombie/functions.php
on line
272
Our Company
For 50 years, Giant Pumps has offered the most dependable positive displacement high-pressure triplex pumps available. Designed and built to the highest quality standards, customers count on Giant Pumps products to keep their equipment running. Every design detail of Giant Pumps products is optimized for long-life and reliable performance, making Giant Pumps the most trusted name in high-pressure pumps and systems.