New Hydraulic Series Pumps
Latest News | November 12, 2020
Per the request from some of our customers, Giant has developed a new line of hydraulic drive pumps for the P400 series pumps.  The concept is to provide a direct mounting flange for the hydraulic motor, which will eliminate the need for couplers and bell housings.  Some of the major benefits will be reduced space requirements and cost savings.  The mounting flange on the pump is designed to accept wither SAE 2B pr SAE 4B hydraulic motors with a 13T 16/32 involute spline shafts.
Currently, this style of pump is available for pumps with a stroke of 24mm; however, future shaft stroke sizes are planned.  The pumps are available with shaft sizes on either the right-hand or left-hand side.  Other than the crankshaft and bearing cover, all other components are components are consistent with other P400 series pumps, such as tapered roller bearings, bronze connecting rods, stainless steel polished and ground plunger bases, solid ceramic plungers, stainless steel valves, highest quality seals and either forged brass, nickel-aluminum-bronze manifolds or AISI 316 stainless steel manifolds.
Some common applications will be sewer cleaning, hydro-excavating, pot holing direction drilling hydrostatic testing, surface preparation, agricultural spraying, mobile cleaning units, etc.
Available Options: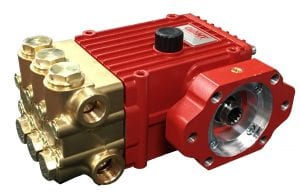 P420H – 12.8 GPM @ 2175 PSI
P422H – 9.9 GPM @ 2610 PSI / 3000 PSI
P435H – 6.6 GPM @ 3625 PSI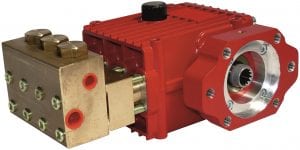 P465H – 6.3 GPM @ 5800 PSI
Warning
: Undefined variable $args in
/srv/users/serverpilot/apps/gia-kamat-dev/public/wp-content/themes/zombie/functions.php
on line
272
Our Company
For 50 years, Giant Pumps has offered the most dependable positive displacement high-pressure triplex pumps available. Designed and built to the highest quality standards, customers count on Giant Pumps products to keep their equipment running. Every design detail of Giant Pumps products is optimized for long-life and reliable performance, making Giant Pumps the most trusted name in high-pressure pumps and systems.