New Pressure Switch
Latest News | May 2, 2022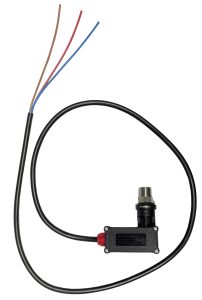 Introducing the new 23178-4000 pressure switch.  This switch features a 3/8″ MNPT Inlet in Stainless Steel, an actuation pressure of 360 PSI and a temperature up to 195  ºF.  Click here to learn more.
These devices are activated by pressure (or lack of pressure) in a high-pressure system.  A piston is connected to a micro-switch that will either complete or interrupt an electrical circuit.  Common applications for them are for turning on/off burners in hot water pressure washers and sending a signal to start or stop an electric motor.  These devices are available in brass or stainless steel.
This switch is used to translate water pressure to a micro switch.  The pressure switch will control on and off functions for low amperage devices, such as burners and clutches.  The control setting is pre-set at the factory and can be wired in a "normally open" or "normally closed" manner.
Warning
: Undefined variable $args in
/srv/users/serverpilot/apps/gia-kamat-dev/public/wp-content/themes/zombie/functions.php
on line
272
Our Company
For 50 years, Giant Pumps has offered the most dependable positive displacement high-pressure triplex pumps available. Designed and built to the highest quality standards, customers count on Giant Pumps products to keep their equipment running. Every design detail of Giant Pumps products is optimized for long-life and reliable performance, making Giant Pumps the most trusted name in high-pressure pumps and systems.