October Product Spotlight
Latest News | October 27, 2020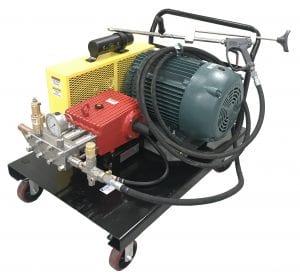 This unit was created to deburr castings for one of our customers.  It includes the following items:
Compact High Pressure Pump – GP5116
Designed with a spheroidal cast iron crankcase (for durability), forged, through-hardened, ground and polished crankshaft (for maximum strength and life), bronze connecting rods (for harsh conditions), high quality stainless steel fluid end components with seal cooling system, this pump will provide years of usable service life to the user.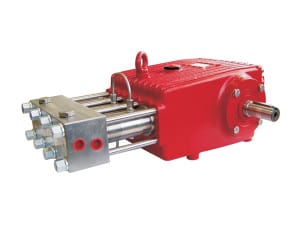 Soft Actuating Unloader Valve – 22675 Series
Compact design and made of special materials.  This valve functions both as a relief valve and a proportional pressure control valve.  It allows for variable pressure via the handwheel.  When used with a spray gun, it holds a minimal amount of pressure in the discharge line.  This allows for a much safer engagement of the high pressure system and reduces shock to the operator and the various components in the system.  If the system pressure is exceeded, the valve works as a proportional pressure relief valve by releasing excess fluid via the bypass line.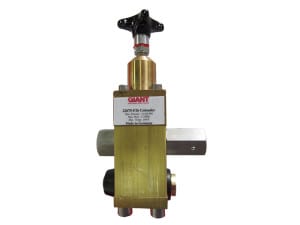 Shut-Off Gun Assembly – 21460 Series
A specially-designed shut off gun with optional lance and adjustable shoulder grip.  This ergonomically-designed gun will help reduce operator fatigue while giving the user thousands of usable cycles for controlling the spray of the fluid.  The inner parts are made with stainless steel for maximum durability.  Various lance lengths are available.

A uniquely created safety device for high pressure applications.  This pressure relief valve can be installed either directly onto the pump or in the discharge line via a "T-piece".  If the system pressure is exceeded, the fluid will be diverted through the outlet of the valve, which will drop the system pressure to an ambient level (depending on the flow rate and working pressure).  While the valve will automatically re-set (once the system pressure drops to normal levels), the root cause of the over-pressurization mush be found.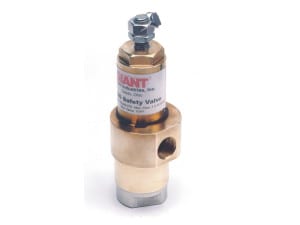 Warning
: Undefined variable $args in
/srv/users/serverpilot/apps/gia-kamat-dev/public/wp-content/themes/zombie/functions.php
on line
272
Our Company
For 50 years, Giant Pumps has offered the most dependable positive displacement high-pressure triplex pumps available. Designed and built to the highest quality standards, customers count on Giant Pumps products to keep their equipment running. Every design detail of Giant Pumps products is optimized for long-life and reliable performance, making Giant Pumps the most trusted name in high-pressure pumps and systems.